I loved getting this little pink and ruby red pocket sized Bible in the mail! The
iShine Bible
is made for tweens. There is also a grey and yellow version for boys.
The
NLT
is a version that I did not grow up with, but I think it's great for tweens to be able to understand the content a little better. It's not a philosopher's version but the point is to get tweens to READ the Bible :)
This Bible also offers QR codes for free music downloads and url links to podcasts and online discussions. I really appreciate the time and thought put into this Bible to make it relevant with the technology that is out there for everyone today.
A minor issue I have is actually not about the Bible. I personally do not like the pictures listed on the online retailers websites to sell this Bible. It seems too busy. As a consumer you might know understand that the white part on the front with the word "shine" and the teenager on the front is NOT on the Bible. It's a cardboard sleeve. The actual Bible is an imitation leather in fun colors of pink/red and grey/yellow.
Some of you know that I only have boys and are wondering why I got a pink and red Bible to review... I know a tween girl that will be getting my copy as a gift :)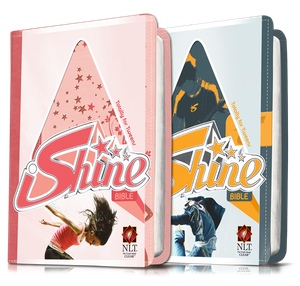 I received this book free from Tyndale as part of their Blogger Review Program. I was not required to write a positive review. The opinions I have expressed are my own. I am disclosing this in accordance with the Federal Trade Commision's 16 CFR, Part 255: "Guides Concerning the Use of Endorsements and Testimonials in Advertising.